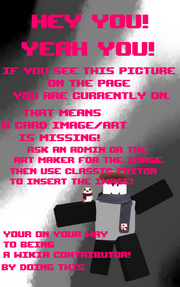 "[Ingame pack description.]"
[Extra details about the pack.]
This pack is currently in-development. Pack details are subject to change.
Required # of wins: ___
Cost: ___ BB
Number of Cards: ___
Number of Unique Cards: ___
Breakdown
___ Common cards
___ Uncommon cards
___ Rare cards
___ Epic cards
___ Legendary cards.
For more information about this pack, head to [Here.] ([Here] is link to already-created page advertising the pack. Ex: Temporal Halo.)
---
This is the template for making pack pages. If your page has any source other than this, civilCornball is going to be very disappointed in you. This also applies to if you use this template for a non-Category page.
Images for pack pages must be 250px, for consistency's sake.
Note: You must copy the source of this page or else things may not carry over, such as links. See Pack Template/Wikitext for the source, then copy and paste it into source editor.
Pack pages should be titled "Category:[Pack Name Here]." This allows for easy addition and removal of cards from the category.