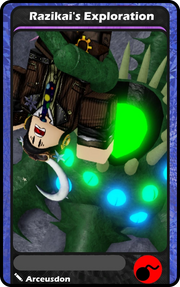 About Razikai's Exploration
Rarity: Blue Rare
Health/Power: Action
Effect: Return all allied fighters to your hand. Summon the Space Monster, a random Blue fighter, and a random Green fighter.
Bio: NOT THE SQUID! ANYTHING BUT THAT!
Hallow's Tales Bio: OKAY GIVE ME THE SQUID INSTEAD I TAKE IT BACK!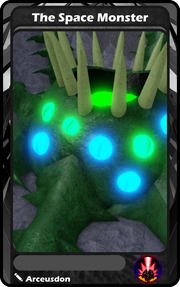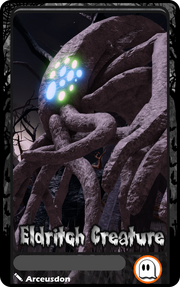 About The Space Monster
Rarity: Colourless Token
Health/Power: 1200/400
Effect: When this card attacks: Summon a random green fighter.
Bio: It's in the light. The moon came in. He found me through the mirror. Moonlight white. White like eyes. Not light but blood. I drown in him. If you are afraid, we will look together.
Hallow Tales Bio: Somethings are better left unknown.