Jurassic World: Dominion Dominates Fandom Wikis - The Loop
Play Sound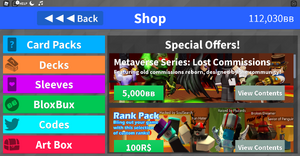 Offers are where you can buy cards and ranks for either BB or Robux. It is located as a banner on top of the Card Pack section in the Shop menu.
Metaverse Series
Metaverse Series feature cool ideas and cards that can't be put in packs.
Cash Grabs - Play the winning group from the 2021 card design contest.
These offers contain cards from the Shovelware Group. It is also the only way to access the said group and it costs 5000BB, or 500 Robux for the foil version. The cash grab offer is in the form of a preconstructed deck, and you can equip the deck to any deck slot.
Lost Commissions - Featuring old commissions reborn, designed by the community!
This offer has old commissions that were forgotten about, with the effects designed by the community. This is the only way to access these cards. It costs 5000 BB, or 750 Robux for the all-foil version.
Cards included are 4x Spyro759, Unlicensed Pedromony, Trey56820 the Ripper, Supah Squidshock EX, 4x TanPoi12, 2x PikachuKiller, NinWasTaken, Sugarcoated Pedromony, 4x Erikakat, 4x Morblox the Terrifying, 2x Mafioso 74Riley, 2x Zabiehunter, Keeper of Time, Abigtoad, and 1st Regiment Lt. Zabiehunter.
This also gives the "Resurgent" Rank.
Developers and Contributors - Featuring cards of notable developers and and community members of Blox Cards designed by them.
This offer has 22 new and unique cards designed by the same people on the cards. This is the only way to access these cards. It costs 7500 BB, or 1000 Robux for the all-foil version.
Cards included are T0m_q, Phantom Moon's Poltergeist, Lidusha66, 2x Steve, The Blazing Flare, 2x Lavatik, Jester's Gambit, Overlord Sentrum1, 2x Julez - Magician of Cards, 3x Fractured Guidance, Flufflefunz, Unforgettable, Resurgent Realm, 3x ttar project, 2x Aurebus, 4x KINGwither240, 4x ExperienceWorks, Barbatos, Lord of Wind, Iamlogic, Ultimate Gamer, 2x Azizapat, CivilCornball, 2x Bunny Tamer, 3x Unad@ptably, ObamaXJesus, and Studderies.
This also gives the "Community Supporter" Rank.
Seasonal Offers
WIP
Seasonal Offers are available at select times of the year, typically to promote seasons or holidays.
Other
Rank Pack - This offer gives you custom ranks. It costs 100 robux. This offer is permanent.
The list of ranks in the rank are: Raised by Fluzards", "Master of Waves", "Broken Dreamer", "Hacked by SoulSearch", "Revelling Satyr", "Viable Lifegain Deckbuilder", "SAMPLETEXT", "An Enemy Stand", "AI Slayer", "Little Girl", "Surveyor of Degeneracy", "Shadow Clone", "Planetbuster", "Double Decker", "Pootis", "Nenjas Trader", "Reading the card explains the card.", "Sweep Sweep Sweep", "Prince", "Fun Hater", "Nerf Bees!", "0800 1111", "Rigged from the Start", "Got Nerfed", "Totally not a Meeboid", "Savior of Penguins", "Innovative", "Ultra Enthusiasm", "Bat Lives Matter", "Not in Smash", "Empowered by God and Anime", "Average Joe", "Dabmaster"