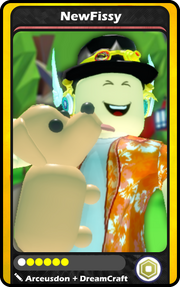 About NewFissy
Rarity: Yellow Epic
Health/Power: 800/400 (1800/0 if self target)
Effect: When this card is cast: A target fighter gains 1000 Health. Set its power to 0.
Bio: Hi, I'm the scripter of Roblox Plague, TreeLands, and Adopt M-HEY! Stop it, that tickles!
Easter Feast Bio: Roblox server shudders when a new Adopt Me pet drops.
Trivia: Used to be called MisterObvious.