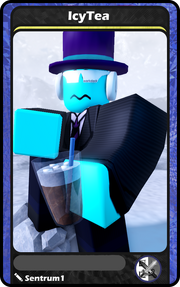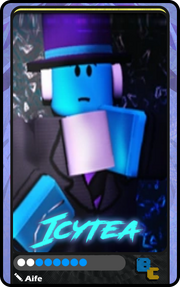 About IcyTea
Rarity: Blue Legendary
Health/Power: 700/500
Effect: When this card dies: Lock all enemy fighters for 2 turns.
Bio: Master of ice. Conquerer of redcliff. Slayer of dragons. Dies to noob spray.
Art Box Bio: Master of arts and ice, IcyTea is an impeccable fighter capable of advanced magic and destructive power. Watch out! Part of the 'Aife' Collection! Collect them all!
Saint Tea Bio: You gave Santa such a wedgie that he disintegrated into a children's trading card. Merry Christmas 2021! This card is an alt-art of IcyTea.
Note: This card used to be in the Noob Group.

Also has a unique animation when its effect triggers.
Trivia: IcyTea, or also known as Teaism was the creator of Blox Cards, with the help of Visleaf and drager980. He is a College Kid that loves drinking himself, and has a Twitter, @_IcyTea. He owns a Discord that has about 275 players concurrently online on average everyday and actually speaks!