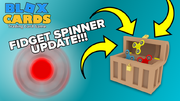 The Fidget Spinner Chest was a feature ironically added in by Visleaf due to the massive influx of fidget spinner updates for popular ROBLOX games back then in May to June 2017. The Fidget Spinner Chest in random places throughout the map, similar to the Balloon Cart.
You can equip a fidget spinner by walking onto the white, neon, transparent part in front of the chest. There is a red button behind the chest labeled as "Fad over" where you can unequip the fidget spinner.
Whenever you click, words and phrases fly out of the cursor such as "Yeah!", "Great!", "Perfect!", "(number) Combo!", and "Combo broke".
They are currently non-functional.