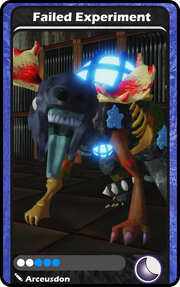 About Failed Experiment
Rarity: Blue Common
Health/Power: 900/300
Effect: Effects can't transform this card. Whenever an allied fighter dies: This card gains 100 health.
Bio: When Eisenhower left his lab to help defeat Zanzel, the clever abominations on the lowest floor broke out and slaughtered us.
Hallow Tales Bio: Eisen's mistakes still roam the night.
Trivia: Used to be called "Failed Expirement" due to an error that was kept as a joke.