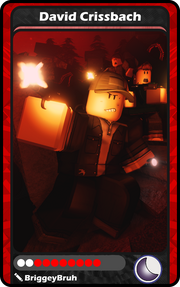 About David Crissbach
Rarity: Red Epic
Health/Power: 200/200
Effect: Effects can't transform this card. This card can't be countered. When this card is cast: All allied fighters transform into a copy of it.
Bio: "Let me give you advice my father gave me when he got divorced: Control what you can. Accept what you can't."
Group: Survivor
Trivia: Used to be called "Ancalagon, Sword Critic".

Ancalagon, Sword Critic, is now its own card, replacing Anti-Fave.