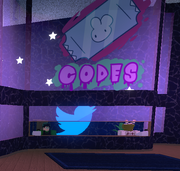 The Code Zone is in the Blox Cards Headquarters Spawn Area, near the Card Shop. It used to be a building shaped like an old style Computer, then a boarded-up exit back from the Subway Spawn Area, then to a booth near the left side of where you spawn in the HQ, then to what it currently is now.
This feature is useful for players who may not have much BloxBux and cards and wish to obtain more. Some codes even give out Lucky Charms and special Titles!
Note that this list is not always 100% accurate, as most of the people working on this wiki are only testers. If you want to know more secret codes, head out to the BC Discord and check for the latest sneak peeks/leaks!
| Code | Rewards | Status |
| --- | --- | --- |
| THERETURN | 500BB | Active |
| WELCOMEAGAIN | 500BB | Active |
| OBSERVANT | Biostream, "Eagle Eyed" Title, 500BB | Active |
| CHEERSFAM | Love Potion, 500BB | Active |
| JANITORISM | 1000BB, "The Janitor" Title | Active |
| BLOXCARDSTWITTER | 500BB, 5x Ancient Stirrings pack | Active |
| SPOOKY | 500BB, 4x Pumpkin Bomb | Active |
| RERELEASE7 | 4x Amanda | Active |
| ARBOREA | 4x Dead Tree, 4x Final Tree, 4x Satyr Nourisher, 3x The Great Tree, 3x The Blighted Fens, 2x Anthrested Tree, 200BB, 1 Clover, "Rageborn" Title | Active |
| PALINDROME | 505BB, 1x Owen0202, "MirrorirroM" Title | Active |
| 30000 | 500BB, 2x Roblox's Servers, "Down for Maintenance" Title | Active |
| TEMPRELEASE4 | 2x Mutative Symbiosis, Blacken the Skies, 3x Micpro1234, 500BB | Active |
| PLAYSOLAR | 500BB, 5x Solar Conquest pack | Active |
| COCOAWAR | 500BB, 5x Solar Conquest pack, "Guided Tourist" Title | Active |
| BLACKHOLE | 500BB, 5x Solar Conquest pack, "Your mum" Title | Active |
| SOLAR | 750BB, 5x Solar Conquest pack | Active |
| CHASEROONY | 250BB, Foil Chaseroony | Active |
| HORSESHOE | 1000BB, Clover Sleeve, "Hatchling" Title | Active |
| PUFFERFISH | 200BB, "Big Fish" Title | Active |
| LOST | 5 Easter Feast Pack Tickets, 250BB, "Found" Title | Active |
| TACOS | 4x Raining Tacos, 1000BB | Active |
| TITAN | Classic alt-arts of Recruiter of the Titans, Conscripter of the Titans, Titan of the Holy Chamber, Titan of the Infernal Abyss, Titan of the Dying Forest, Titan of the Deep Below, Titan of the Fried One (max copies of each), 1000BB | Active |
| QUESTSAREHERE | 300BB, 5 Easter Feast Pack Tickets, "Mandatory Quest Giver NPC" Title | Active |
| METAVERSEDEV | 500BB, 3 Easter Feast Pack Tickets, "Fake Dev" Title | Active |
| Code | Rewards | Status |
| --- | --- | --- |
| FATHER2020 | Matt, 300BB | Expired |
| MOBDAY17 | Bored Mo or Mo's Dungeon, 300BB | Expired |
| CHRIMBUS2020 | Guaranteed new Christmas Alt from the art box added in the X-Mas Update, 1000BB | Expired |
| LOVE2021 | 3x Tough Love pack, 500BB | Expired |
| RERELEASE1 | AgentBloxxer, Ancalagon Sword Critic, Badcc, Darr1342, Hal, Man8976, NewFissy, 4x Olafisawesome100, Pedromony, Radiogamer, 4x Tertiarick, 4x Toothy Deer's Blessing | Expired |
| RERELEASE2 | Naga the Sea Serpent, 2x Badcc, The Shadow Realm, David Crissbach, 4x Icebreaker! | Expired |
| RERELEASE3 | 2x SilentSwords, 3x Are14, PoptartNoahh, 3x evaera, 4x Spectrabox, 3x Tremity, 2x Imaginaerum, 3x Are92, 2x Avectus, 2x Jailbreak!, 3x Mothmage, 2x Myzta, 4x Chillthrill709, Tiger370 | Expired |
| RERELEASE4 | 3x Ailing Oddsmaker, 3x Emotionless Oddsmaker, 3x Pathetic Oddsmaker, 3x Insane Oddsmaker | Expired |
| RERELEASE5 | 4x The Beast, 4x Piggy, 2x Anaminus, Minish, 3x Rapid Response, 4x CAROLINE, 2x Firebrand1, 4x BelowNatural, 3x Guardia Bladesmith, 2x Sethycakes, 3x Guardia Fallen, 4x Coeptus, 2x noob007, 3x Accursed Bladesman, 3x Guardia Custodian, 4x Mrflimflam, 4x Kenami, 3x Jokerkid5898, 2x Iron Café, 4x Eisenhower's Apprentice, 4x Koopa, 2x Ninja Ambush, 2x Dehabilitator, 4x PrismDraco, 2x Ehj236, 4x Wolfbitten Wanderer, 4x Failed Experiment, 4x Cenoglyphic, 2x Magic Broom Black Cat, 3x Spotco, 4x Shambeth Gargoyle, 4x Morphic Catalyst, 2x Fractality, 2x Pseudosanity, 4x Diddleshot, 4x ChloeUrie, 3x Unmiracle, 3x Lycan Envoy, 4x EvilArtist, 3x Guardia Seeress, 4x TheCoderBunny, 4x DracoSwordMaster, 4x T3RB0H, 3x Crescendo, The Soul Stealer, 3x Onett, 3x Hedonist Acolyte, MSE6, 4x Hallow's Bargain, 2x Wielder of the Firebrand, 4x Blessed Sage, Vaktus, 2x ITrapped, 4x Artemis' Tombstone | Expired |
| ZANZELSWIMSUIT | One of a kind Priestess Zanzel swimsuit alt art, 500BB, "Trolled" Title | Expired |
| EGGY2021 | 3x Easter Feast pack, 500BB | Expired |
| EGGLOVER | 5x Easter Feast pack, 500BB | Expired |
| MOM2021 | 1x Kara Sinister exclusive alt art, 500BB, "Duck Caretaker" Title | Expired |
| RERELEASE6 | 3x Ace Beastin, 4x Bee Drone, 2x Assist Trophy, 2x Anthrested Chopper, 3x Saprasam, 4x ScriptMasTime, 4x Beebling, 4x Newbee, 3x Spongemario78, 3x Retro Candy | Expired |
| MOBDAY18 | 1800BB, 8 Rabbit feet, ChuChu Sleeve, Bored Mo, Mo's Dungeon | Expired |
| BEATINGYUKICRASHESPAPERBLOXCARDS | 22BB, Foil Dairingpoophead, Tix God, Foil SonozakiRaito, 30 Lucky Clovers, "Infinitely Rich" Title | Expired |
| DARK | 50BB, 2x Dark Book of Spells | Expired |
| ROLLING | 50BB, 2x Rollernaut | Expired |
| SANCTUM | 50BB, 2x Alpha Brick's Presence | Expired |
| THANKSFOR15KLIKES | 1500BB, 15x K | Expired |
| TRADINGCRASHESPAPERBLOXCARDS | 250BB, "Duplicated" Title | Expired |
| WOOPSIDIDITAGAIN | 500BB | Expired |
| ALIMONY | 500BB, 1x Mystery Card Y | Expired |
| ALTEREV | 50BB, 1x Scripter, 1x Rhysmon | Expired |
| THESOURCEOFWOE | 250BB, 2x Ttarproject | Expired |
| PLAYPITS | 2000BB, 5x Pits of the Umberlord pack, "Fundebted Fighter" Title | Expired |
| IAM23ANDSLOWLYDECAYING | 500BB, 1x Myrmiredon | Expired |
| HALLOW | 5x Hallow's Tales packs, 1000 BB, "Storytime" Title | Expired |
| VICTORCANNONS | 3x Hallow's Tales packs | Expired |
| TERRYSTARS | 3x Hallow's Tales packs | Expired |
| CLAUDIAWATER | 3x Hallow's Tales packs | Expired |
| KALMANSMELLS | 3x Hallow's Tales packs | Expired |
| QUANPARKOUR | 3x Hallow's Tales packs | Expired |
| GRRRECLIPSE | Infinite Frost, Infinite Wishes, Infinite Flames, Infinite Chicken | Expired |
| GILFREDPREZZY | Foil Mystery Card Y, 500BB, "Abducted by Aliens" Title | Expired |
| NCMHUDCISPUXDRQ | Foil Mystery Card W, 500BB, "Map Scourer" Title | Expired |
| BLOXCARDSCH0M1K | Foil Mystery Card X, 500BB, "ARG Completer" Title | Expired |
| DYINGREPEATEDLYCRASHESPAPERBLOXCARDS | 4x DracoSwordMaster, Foil Pandemonium and Chaos token, 500BB | Expired |
| KARAISBEAUTIFUL | Mystery Card Y, 500BB | Expired |
| FLUFFLESHUFFLE | Mystery Card X, 500BB, "Oh Deer." Title | Expired |
| ARTEMISTREASURE | Mystery Card Z, 500BB | Expired |
| MERRIMENT | 500BB, "Merry Christmas!" Title | Expired |
| ANGRYBESTOWMENTS | Mystery Card W, 500BB | Expired |
| TEAISMGIFTS | 5x Teaism's Gifts packs, 1000BB, "Showered in Gifts" Title | Expired |
| CHRIMBUS | 5x Teaism's Gifts packs, 500BB | Expired |
| LEAVINGTRADESCRASHESPAPERBLOXCARDS | 5x Teaism's Gifts packs, 500BB | Expired |
| NEWYEAR2022 | 500BB, "New Years Partygoer" Title | Expired |
| CHINESENEWYEAR2022 | 平和 Zanzel exclusive alt art, Chinese New Year 2022 sleeve, 250 BB, "Year of the Tiger" Title | Expired |
| BDAYTEA | 500BB, Teaism, Foil Birthday Surprise, Birthday Cake sleeve, "Birthday Ambassador" Title | Expired |
| SWEET | Neodragon Chef, Neodragonmaid Welcome, Neodragon Servant, Neodragonmaid Sleeve, 250BB, "Lovely" Title | Expired |
| BOX CARTS | 500BB, "Cringe Compiler" Title | Expired |
| FLOCCINAUCINIHILIPILIFICATION | 500BB | Expired |
| FOOLSAPOLOGY | 3x Foil Myrmire-DIO!, 3x Myrmire-DIO!, 500BB, "Foolish." Title | Expired |
| EASTERISHERE | 500BB, "Easter Bunny" Title, 5 Easter Feast Pack Tickets | Active |