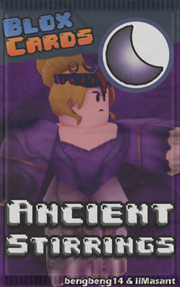 "Priestess Zanzel has corrupted this world. Do you have the gall to stop her?"
This pack is currently in-development. Pack details are subject to change.
Required # of wins: 0
Cost: 100 BB
Number of Cards: 90
Number of Unique Cards: ?
Breakdown
32 Common cards
21 Uncommon cards
28 Rare cards
10 Epic cards
9 Legendary cards.
Archetypes
Apocrypha (Archetype)
Survivor (Archetype)
Sinister (Archetype)
Vibeshark (Archetype)
Lycanthrope (Archetype)
For more information about this pack, head to Ancient Stirrings (Redux).
Trending pages
All items (106)