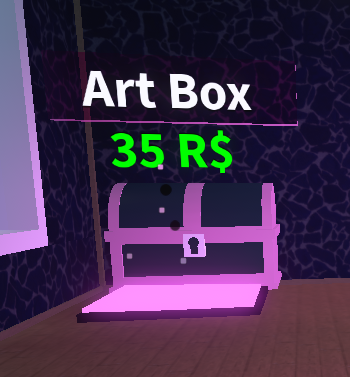 The Art Box, also known as Aife's Box and the Mystery Art Box is a microtransaction that allows you to turn 35 Robux into a random, beautifully-made, alternative-art card. The trend started when IcyTea commissioned Aife (a person who makes ROBLOX-related art) to make a bunch of old cards with revitalized art. Most Alternative-art cards can only be obtained from the Art Box, making them extremely collectible.
The Art Box is the main source of Blox Cards' income, and has since had contributors from other players with varying degrees of quality.
IcyTea once hosted a competition - and then cancelled the competition - to see who could make the best alt-art. This lead to iiMasant (now known as lun_r) joining and completely destroying the concept of commissioning Aife arts.
All cards in the Art Box can be obtained in packs in a non-alternate-art form, and alternate-art cards do not alter the limit of rarities (You can't play alternate-art Visleaf and Non-alternate-art Visleaf in the same deck.) All Aife cards are pushed to be playable.
Minigames
There are three minigames you could play for 35 ROBUX:
Spin to Win
Card Fountain
Aife's Choice
Spin to Win
Spin to Win is simple: Click the button to roll the selection of cards. Once the selection rolls, you can click the button to stop anytime (there's no time limit). Once you click the button, it automatically stops and reveals the alt art card selected by the arrows between them.
Card Fountain
Card Fountain spews out a bunch of unrevealed cards out from the bottom, shooting out like a fountain. When you click on a card, the fountain stops and the selected card is zoomed in onto the center of your screen. After that, it reveals the alt art card.
Aife's Choice
Aife's Choice, also known as Aife's Sophie Choice, gives you a selection of four random and unrevealed cards. When you click on a card, the other unrevealed cards slide down below the screen, disappearing. After that, it reveals your selected card.
List of Alternative Arts