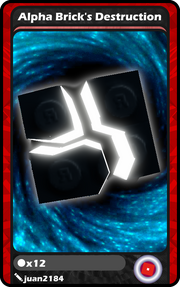 About Alpha Brick's Destruction
Rarity: Red Epic
Health/Power: 1200/0
Effect: When this card is cast: Your opponent can't attack or cast anything next turn. Skip all end triggers, readying, and icon generation that turn. End the turn and Obliterate this card.
Bio: Zanzel screamed at a job not done. Eisenhower recoiled at an experiment not fulfilled. Eclipse howled as the raw timestream burnt his throat. For Hallow, it was Monday.
Archetype: Era
Note: Only uses the Era archetype tag to properly trigger its effect. (It is not an actual archetype.)
Trivia: Icons are an old term for studs.