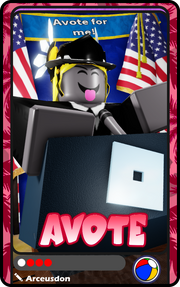 About AVote
Rarity: Red Rare
Health/Power: 300/300
Effect: When this card is cast: Unlock a target fighter.
Bio: Best friends with 13Jayson, they even work well together!
Summer Salt Bio: AVote for me is AVote for more OTKs!
Trivia: AVote used to be a yellow card, but became a red card at September 2016 to nerf it.

The bio references the OTK combo with Mewsitive (current name of 13Jayson).